FILLED EPOXY COATED STRAND 7 Wire 12.7mm Dia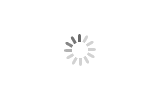 FILLED EPOXY COATED STRAND 7 Wire 12.7mm Dia
Strand diameter: 6.35 mm - 15.25 mm.
Coated layer thickness: 0.38 mm - 1.15 mm.
Tensile strength: not less than 1860 MPa.
Yield strength: not less than1647 MPa.
Low relaxation: not more than 6.5%.
Elongation: not less than 4.0%
Epoxy coated strand has a layer of epoxy resin which will combine with the steel during stressing without cracking or losing adhesion. In the coating process, it will not pollute the surrounding environment and the wire tensile strength is without losing. At the same time, the coating layer is able to resist physical wearing and chemical corrosion. we can supply steel strands according to the customers' specific requirements in their project.
1.Strandard:
# ISO 14655-1999 international standards
# ASTM A 882-A882M US..
# KS D ISO 14655 -2002
# GB/T 21073-2007
# GB/T 25823-2010
# JT/T737
2.The advantages of ECS compare to other anticorrosive coated strands.
(1) High corrosion protection
(2) Construction durability
(3) Excellent resistance against fretting fatigue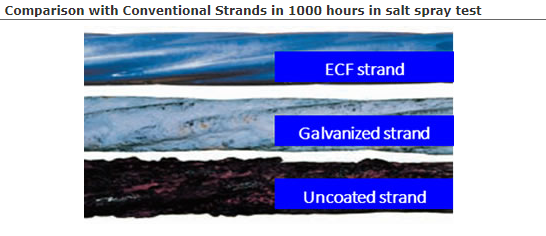 3.Application:
< For bridge construction >
# External tendon inside girder
# External tendon outside girder
# Stay cable
# Inner cable for chloride polluted region
# Connecting cable for precast slabs
< Ground anchor >
# Permanent anchorage system (FLOTECHTM anchorage system)
< Temporary tendon >
# Temporary circumferential tendon for tank